Temple of Baal Cave - Citadel of Peace
Por Jenolan Caves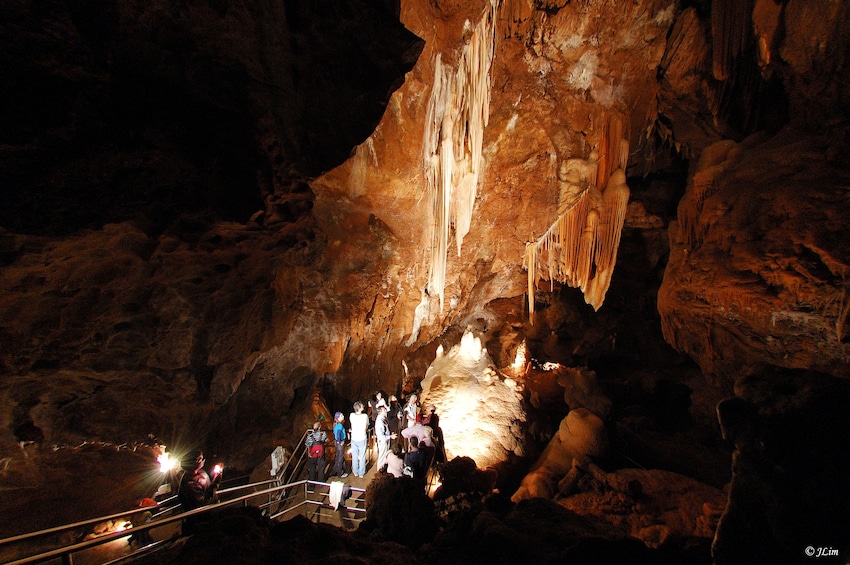 Aspectos destacados
The 'Angels Wing' is one of the world' longest cave shawls

Descend the 'Dragon's Throat'

See oolites (cave pearls)

See helactites (cave mysteries)

See the 'Red Altar' and the 'White Altar'
Qué está incluido y qué no
Guided tour with full 1.5 hour commentary.
Información importante
There are 288 stair steps on this tour. This tour can be enjoyed by people of all ages and of average fitness. However, it is not suitable for anyone with health or mobility problems.

Photography is welcomed, but tripods, monopods and selfie sticks are not allowed.

Young children are not allowed on this tour. The minimum age is 6.

In planning your trip, note that Jenolan has a large cafe, open daily for snacks, light lunch and drinks. There is a large restaurant, Chisolm's, which is open every evening. Also, a range of accommodation is available.

Aim to arrive at Jenolan at least 30 minutes before your tour, to find parking and to use the restrooms.

Product may be cancelled or rescheduled if the minimum group size is not met (3) but we will always aim to offer rescheduling
¿De qué se trata?
Set in a World Heritage Area, Jenolan boasts an Australia's large and spectacular cave system with some very old caves.. Stand in the awe-inspiring Temple of Baal Cave, and marvel at the astonishing formations in this citadel of reflection and peace.
There are 288 stair steps in this cave. Although is regarded as 'strenuous', it can be done by the average visitor.
The tour guide takes the group up a hillside to the entrance to the 'Binoomea Cut', a man-made shortcut to the Temple of Baal Cave. Following this long, narrow tunnel, the group enters the Temple of Baal Cave.
The guide leads the group down a long winding stair, known as 'The Dragon's Throat'. This takes the group to the floor of the cave, into a large chamber, known as 'Moloch's Grotto'. This chamber boasts a wide variety of decoration including the only display of cave pearls, or oolites, at Jenolan.
Visitors get a good chance to inspect helictites up close. The tour group moves into the main chamber, one of the largest chambers at Jenolan. They inspect this huge chamber from 5 different vantage points, and each stop affords the chance to see something new. Much of the decoration is brilliant orange although the chamber is dominated by the white Angel's Wing, one of the largest cave shawls in the world.
Young children are not allowed in this cave, so visitors can immerse themselves in its strangely contemplative atmosphere.