Imperial Cave Tour - Where an Ancient River Ran
Por Jenolan Caves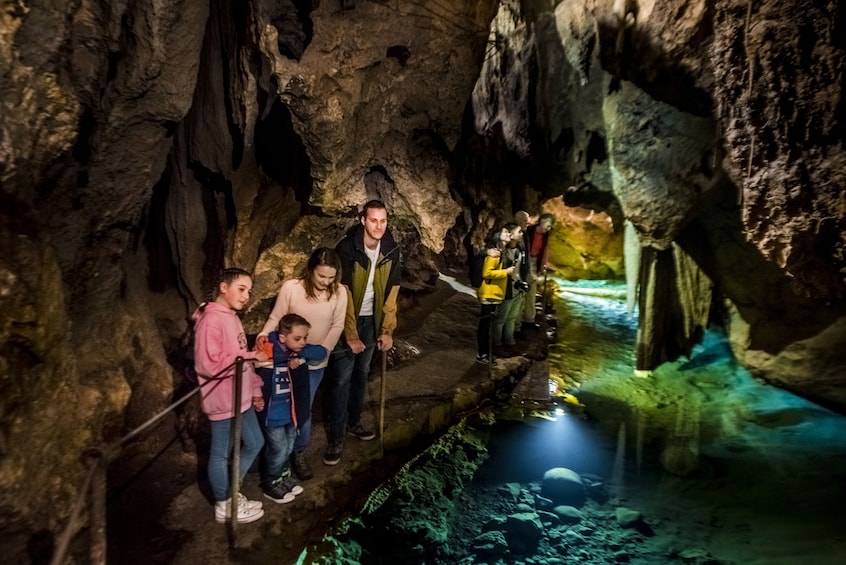 Aspectos destacados
Visit the pure, blue underground river - so beautiful

See this cave's most famous feature, 'The Crystal Cities'

See a Tasmanian Devil skull, extinct on the mainland

See one of Jenolan's most beautiful shawl formations

Suitable for all ages and fitness levels
Qué está incluido y qué no
Guided tour with full commentary for 1 hour.
Información importante
There are 358 stair steps on this tour. This tour can be enjoyed by people of all ages and of average fitness. Although there is no wheelchair access, and taller visitors must do some bending, it is regarded as the best cave for those with mobility problems.

Photography is welcomed, but tripods, monopods and selfie sticks are not allowed.

Front slings are the only baby carrying equipment allowed on this tour.

In planning your holiday, note that Jenolan has a large cafe, open daily for snacks, light lunch and drinks. There is a large restaurant, Chisolm's, which is open every evening. Also, a range of accommodation is available.

Aim to arrive at Jenolan at least 30 minutes before your tour, to find parking and to use the restrooms.

Product may be cancelled or rescheduled if the minimum group size is not met (3) but we will always aim to offer rescheduling
¿De qué se trata?
Set in the Blue Mountains World Heritage Area, Jenolan boasts an Australia's large and spectacular cave system with some very old caves. With the fewest stair steps, the Imperial is Jenolan's easiest cave tour, a memorable experience for all ages.
The Imperial is regarded as Jenolan's least strenuous cave, with only 358 stair steps, and the tour guide takes visitors into this cave at an easy pace.
The Imperial is one of the first caves to be discovered at Jenolan, in 1879. The first large cavern is known as the 'Woolshed', due to the strangely fluffy appearance of the stalactites.
Wide, level passages bring the group to the 'Sinkhole' where the bones of a Tasmanian Devil, long since extinct on the Australian mainland, are on display.
The group passes 'Ridley's Shortcut' and into the 'Shawl Cave' featuring several large and impressive crystal shawl formations.
At the end of the 'Shawl Cave' the passageway narrows and a few steps bring the group to a tall, pure white stalagmite named 'Lots Wife'.
The 'Crystal Cities' is a huge crystal rim pool formation - a beautiful, unforgettable sight.
Finally, the group has the option of descending a winding staircase to view the pure water of the underground river - lots of photo opportunities here!