The River Cave - Forged in Darkness
Por Jenolan Caves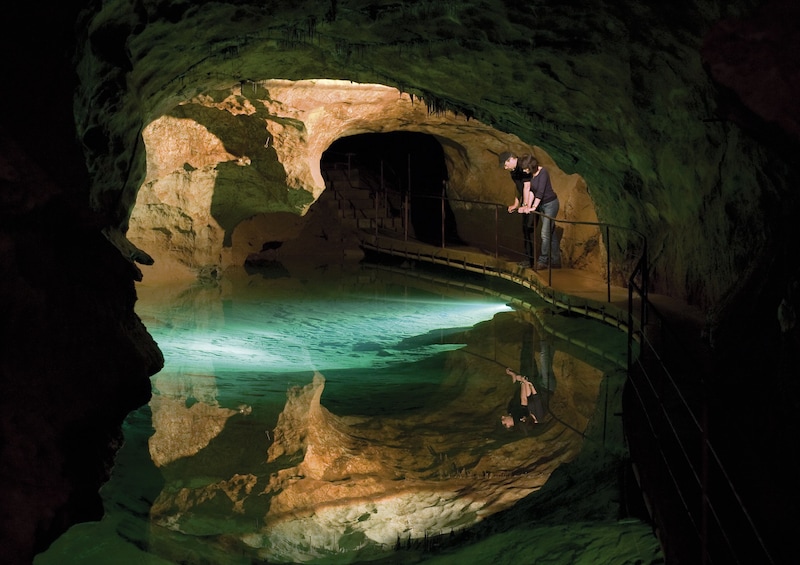 Aspectos destacados
Descend into the alien underworld

See the pure, still, blue 'Pool of Reflections'

Stalagmites, stalactites and shawls that defy imaginination

Explore this amazing labyrinth

Loose track of time
Qué está incluido y qué no
Guided tour with full commentary for 2 hours.
Información importante
There are 1,298 stair steps on this tour, including 2 steep ladders. This tour can be enjoyed by people of average fitness. However, it is not suitable for anyone with health or mobility problems, or a fear of heights.

Photography is welcomed, but tripods, monopods and selfie sticks are not allowed.

Young children are not allowed on this tour. The mimimum age is 10 years.

In planning your trip, note that Jenolan has a large cafe, open daily for snacks, light lunch and drinks. There is a large restaurant, Chisolm's, which is open every evening. Also, a range of accommodation is available.

Aim to arrive at Jenolan at least 30 minutes before your tour, to find parking and to use the restrooms.

Product may be cancelled or rescheduled if the minimum group size is not met (3) but we will always aim to offer rescheduling
¿De qué se trata?
Set in the Blue Mountains World Heritage Area, Jenolan boasts an Australia's large and spectacular cave system with some very old caves. The River Cave is extra effort, but worth it - mind-bending labyrinth, awe-inspiring chambers and pure water.
This is one of the longest tours at Jenolan, with 1,298 stair steps, including 2 steep ladders.
Visitors start the tour by passing through the last chambers of the Lucas Cave. Then, the first main chamber of the River Cave is the 'Tower Chamber', which presents an excellent photo opportunity with the huge stalagmite known as 'The Minaret'.
Moving downwards, the group sees the 'Pool of Reflections', the highlight of the tour for many. This large, illuminated pool of pure, still, blue water produces a multitude of perfect reflections. It is breath-taking.
The groups stops to admire the 'Queens Canopy', a large canopy of flowstone that extends out from the cave wall. Then, they enter 'Queen Esther's Chamber', where the roof and walls are completely covered in stalagmites and stalactites - awe-inspiring!
The group continues on, to see the 'Mons Meg Chamber' with its enormous centrepiece, then 'Olympia', a chamber dominated by a large column, known as the 'Grand Column'. As the group starts heading back, they pass through the spooky 'Mud Tunnels'.