The Orient Cave Tour - Beauty Unsurpassed
Por Jenolan Caves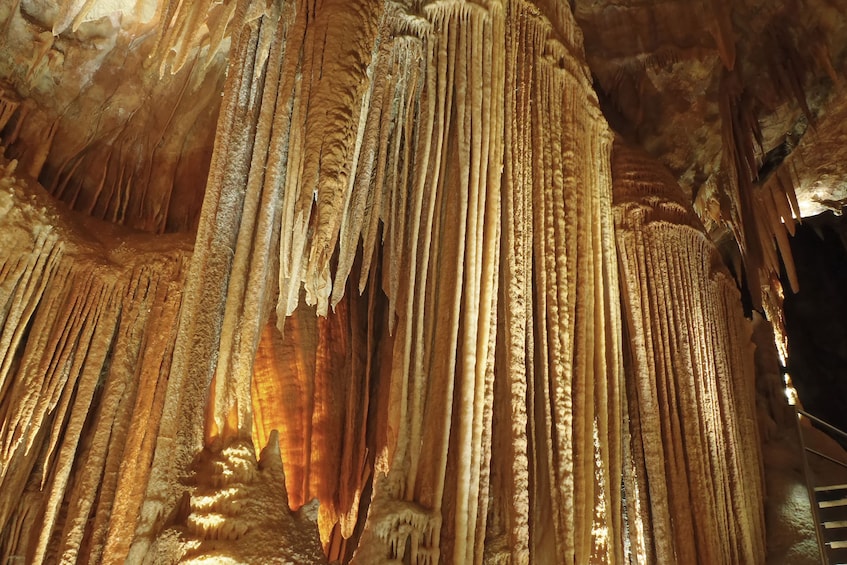 Aspectos destacados
See a breathtaking cave on the inside

A treasure of stalactites, shawls and crystal straws

See the exquisite 'Egyptian Shawl'

Smaller tour sizes

Endless photo opportunities
Qué está incluido y qué no
Guided tour with full commentary for 1.5 hours
Información importante
There are 358 stair steps on this tour. This tour can be enjoyed by people of all ages and of average fitness. However, it is not suitable for anyone with health or mobility problems.

Photography is welcomed, but tripods, monopods and selfie sticks are not allowed.

Front slings are the only baby carrying equipment allowed on this tour.

When planning your trip, note that Jenolan has a large cafe, open daily for snacks, light lunch and drinks. There is a large restaurant, Chisolm's, which is open every evening. Also, a range of accommodation is available.

Aim to arrive at Jenolan at least 30 minutes before your tour, to find parking and to use the restrooms.

Product may be cancelled or rescheduled if the minimum group size is not met (3) but we will always aim to offer rescheduling
¿De qué se trata?
Set in the Blue Mountains World Heritage Area, Jenolan boasts an Australia's large and spectacular cave system with some very old caves. This is Jenolan's most beautiful cave. The visual impact of its richly decorated chambers will astonish.
Jenolan was a protected reserve long before the Orient Cave was discovered. So, its natural beauty has been completely preserved.
The Orient is regarded as one of Jenolan's less strenuous caves, with only 358 stair steps. So the tour guide can take visitors into this cave at an easy pace.
The tour starts at the 'Binoomea Cut', a man-made shortcut into the Orient Cave. Following this tunnel, the group enters the Orient Cave via a small but beautiful chamber known as 'Bat End'.
From there, the group heads upwards to the dramatic 'Persian Chamber'. Many consider this the most beautiful chamber at Jenolan. The walls and roof are completely draped in long calcite crystal formations - stalagmites, stalactites, columns, shawls and straws - in breathtaking array. The height of the chamber is just over 30m. The tallest stalagmite at Jenolan is in this chamber.
The group descends into 'The Well', from where they can view the 'Persian Chamber' from a deeper perspective.
Then, they move into the 'Egyptian Chamber', home to the second largest shawl at Jenolan. As the tour descends from the Egyptian Chamber, they pass a small, but exquisite chamber known as 'The Jungle'.
Finally, the group comes to 'The Indian Chamber', which is viewed from two levels. From the top level they get an excellent view of one of our most famous formations, 'The Indian Canopy'. At the bottom of the chamber the group views 'The Crystal Basin', a large, beautiful formation which sometimes fills with pure water.